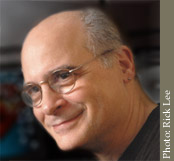 The petrified remains of a lizard;
A discarded computer circuit board;
An old Cracker Jack toy;
These are among the treasures that provide me with inspiration and potential for new works of art. They surround me, awaiting their new home.
Most of my life has been devoted to making art, with over 30 years as a graphic designer and creative director. For the past several years, I have been creating mixed media artwork. I love working with my collection of found objects and vintage books, discovering relationships for incongruent materials and images. I bring these elements together to evoke mystery, fantasy, humor, or to simply create a pleasing arrangement with no hidden meaning, preferring to leave the interpretation of the results up to the viewer. For me, the thrill is in the unpredictable journey and the surprise destination.
Note: All work is created in the traditional methods of collage unless noted otherwise. Please contact me for availability, pricing and details of original work.
Dick Allowatt